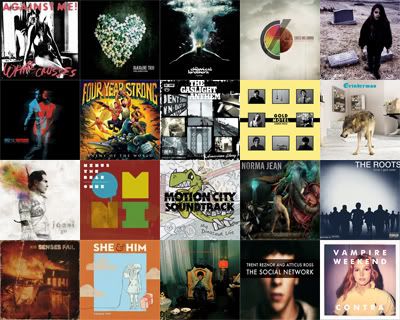 For those that have been following my blog, you know that I make a big deal about my end of the year music list. I think such a summation is the mark of a year well listened, and that's why I always spend a great deal of time on it. Long time readers will notice I've done one every year since starting this blog in 2007, and it seems like it always includes more and more releases as the years go by.
This was especially evident when I began compiling my 2010 list. I realized that I had an overwhelming amount of albums to talk about, and cramming them all into one large post would be overkill. So, I decided to give you guys my Honorable Mention list first, a thorough compilation of good records that missed out on holding top spots on my Year in Review (which is currently gestating on my computer).
So without further adieu, I'd like to present you with following releases, ones that I personally endorse with a 3/5 rating or above:

Against Me!- White Crosses (***½): Tom Gabel loves the 80s, anthems, and self-awareness, wrapping it all in the most non-punk package possible.

Alkaline Trio- This Addiction (***½): Chunky hits of graveyard love, but Skiba and Andriano don't seem as bitter as they used to be.

Atmosphere- To All My Friends, Blood Makes The Blade Holy: The Atmosphere EP's (***): Slug slams his rhymes, Ant blasts his beats, yet peer pressure transforms their typically kinetic hip-hop into something safer.

Avenged Sevenfold- Nightmare (***): The group does their dear and departed drummer proud, scaling back the big rock bravado for leaner thrash.


Band Of Horses- Infinite Arms (***½): Nocturnal anthems with Americana embellishments and stadium grandeur.

Beach House- Teen Dream (***½): An airy mixture of dreamy guitars, heavenly vocals, and soft, processed drumming.

Belle & Sebastian- Belle & Sebastian Write About Love (***): Norah Jones stops by to inject some mid-album pep, but it's the same love struck folk with soft keyboards that the group's made a living off of since the 90s.

Ben Folds & Nick Hornby- Lonely Island (***): Hornby's love-lost prose lacks traditionally grabby hooks, but Folds' vanilla extract voice and jumpy piano more than make up for it.

Brandon Flowers- Flamingo (***): Syrupy slide guitar and nocturnal mournfulness keep this from being just another set of Killers songs.

Cee Lo Green- The Lady Killer (***): Cee Lo loves the ladies; he also loves punchy hooks and James Bond soundtracks.

The Chemical Brothers- Further (***½): Stratospheric beats launch this album into calmer space than the group has ever occupied.

Coheed & Cambria- Year Of The Black Rainbow (***½): If you didn't care about the conclusion of their story you won't care about the beginning, but at least they've added some industrial crunch and metallic flourishes to keep the ride interesting.

Crystal Castles- Crystal Castles (II) (***½): Electro raves in an abandoned church whilst God floods the neighborhood because he's totally a mean landlord.

Daft Punk- TRON: Legacy OST (***): Decidedly more string heavy than their usual house-inspired sound, but still with enough day glow synthesizers to keep electronic fans satisfied.

Dr. Dog- Shame, Shame (***½): If it is baroque, don't fix it, especially if your mining Sgt. Pepper's Era Beatles.

Florence + The Machine- Lungs (***½): Untamed percussion, rich instrumentation, and whirlwind hooks tied together by tempest-like vocals.

Flying Lotus- Cosmogramma (***½): One part Bitches Brew, one part ADD beat-making, all part hipster magnet.

Fitz & The Tantrums- Pickin' Up The Pieces (***½): Surprising vocal range and brisk drumming propels this vibrant, neo-soul outfit towards relevancy.

Four Year Strong- Enemy Of The World (***½): Ever wonder what it would sound like if Robot Dinosaur Bounty Hunters from Mars decided to play rough, metallic infused pop-punk?

The Gaslight Anthem- American Slang (****): Brain Fallon reminds the iTunes Generation that American romanticism and cinematic images are all just as important as big guitar hooks.

Gold Motel- Summer House (****½): Compared to The Hush Sound, their jangly 60s obsession is a horse of a different color, but Greta and the boys have a knack for making it feel like summer, 24/7.

Grinderman- Grinderman 2 (****): Marrying Stones-y atmospheres with dense psychedelics gave Nick Cave's fronted garage band their most diverse offering yet.

Hellogoodbye- Would It Kill You? (***): Oodles of horns and acoustic guitar, but scant on spazzy synths and sugary turns of phrase.

Interpol- Interpol (***): A hint of piano, some strings, and a jilted lover around the droning corner, but Interpol excel at simply churning out a different shade of black.

Joanna Newsom- Have One On Me (***): Newsom's voice flutters around these dense chamber pop arrangements like a canary caught in a music store.

Jenny & Johnny- I'm Having Fun Now (***): Jenny Lewis and Jonathan Rice are in love with the sound of each other's voices, it's too bad their collective croon and shimmering folk doesn't work harder to endear listeners.

Jonsi- Go (***½): Ditching the post-rock drone for dynamic strings and clamoring percussion, Jonsi makes sure we realize he's Iceland's most valuable export.

Kele- The Boxer (***): Half messy euro-club dance numbers, half Bloc Party b-sides, and yet somehow Kele still doesn't make very many enemies.

Ludo- Prepare The Preparations (***): Their frantic energy is more unhinged, the power-pop is poppier, and the songs just as goofy.

Local Natives- Gorilla Manor (***): If Animal Collective had a poppy younger brother yearning for plays on Pandora, and with less Brian Wilson worship…

Maroon 5- Hands All Over (***): Dropping the glitz but keeping the funk, Adam Levine & Co. continue their brand of white boy soul that's geared towards Top 40.

Matt Skiba- Demos (***): Sketches of unfinished songs, drenched in reverb and built with acoustic guitar.

Max Bemis & The Painful Splits- Max Bemis & The Painful Splits (***): Sketches of unfinished songs, drenched in reverb and built with acoustic guitar.

Minus The Bear- OMNI (***½): Between the Legend Of Zelda synthesizers, the proggy guitar lines, and the sexy beats, you'll wonder how Mario and Peach got down without this album.

Motion City Soundtrack- My Dinosaur Life (***½): Dry production, enormous power pop choruses, and Justin Pierre's exuberance make this the group's leanest offering yet.

Mumford & Sons- Sigh No More (***): Charming, organic, and inoffensive bluegrass, the kind that could crop up in a Michael Cera movie.

Norma Jean- Meridional (***½): Brooding, layered, and operatic post-hardcore that pushes the band's sound towards nightmarish zeniths.

Ratatat- LP3 (***): Stringent beats mixed with processed guitar; the perfect blend of sounds for Sonic the Hedgehog's work out mix.

The Roots- How I Got Over (****): Hip-hop elder statesmen craft a message of triumph, hope, and soul searching, set against classic jazz grooves and expressive piano.

Senses Fail- The Fire (***½): Unsatisfied with the reception and execution of their last LP, Senses Fail decides to burn away its memory with grisly vocals, muscular guitar, and frantic breakdowns.

She & Him- Volume Two (****): Zooey Deschanel's sweet charm and M. Ward's even sweeter 60s folk treats listeners to the 502nd day of summer.

The Smashing Pumpkins- Teargarden By Kaleidyscope, Vol. I: Songs For A Sailor (***½)/Teargarden By Kaleidyscope, Vol. II: The Solstice Bare (***): In a quest to alienate fans, the Great Pumpkin offers up Volumes 1 & 2 of his tarot card inspired, 44 song psychedelic love child with mixed results.

Spoon- Transference (***½): A combination of warped blues and spacey atmospheres, all wrapped together by Britt Daniel's sandpaper howl.

Trent Reznor & Atticus Ross- The Social Network OST (***½): Stasis inducing keyboards and dark atmospheres propel this Oscar frontrunner's soundtrack.

Vampire Weekend- Contra (****): If this slice of suped-up afro-pop doesn't have you skipping through Urban Outfitters with its twinkling percussion and quirky beats, you're listening to it wrong.

The Weepies- Be My Thrill (***): Dual vocals help elevate this airy folk, but some more memorable melodies could have gone a long way.